This is for anyone who has a bald head and wants to know more about the Advanced Hair Studio in Cape Town. We are here to answer all your questions and give you tips on how to make the most of your time at our Hair Boutique. Whether you have thinning hair or a complete lack of hair, we offer everything from products that will help. From wigs, toupees, and Bondable Hair Replacements.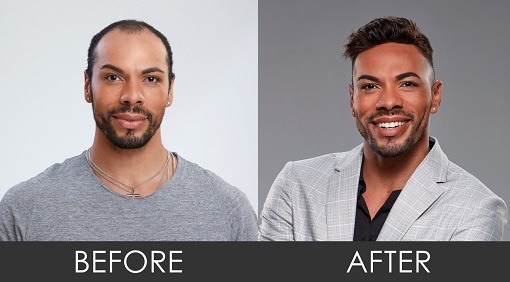 The Advanced Hair Studio Process
Step 1:
The first step is to schedule a consultation in our wig boutique for a hair replacement.
The technician will examine your area of hair loss and take into consideration what kind you're experiencing as well as the impact that it may have on you before making any recommendations.
Step 2:
It's time for a hair replacement and to update your hairstyle!
A bondable topper can be adhered by an alternative hair expert for a secure feel and then the desired look is created.
Step 3:
The hair topper is applied to the skin if he or she has complete hair loss.
However, it's also applied safely to your existing hair is needed. The application method will vary depending on the person's hair loss.

Things you cannot do with a Bondable Hair System
There are none actually.
You'll never have to worry about your hair again!
With a Bondable Hair Topper, you can sleep, shower, bath, and even swim with it on.
Best of all there are no limitations when wearing one.

Frequently Asked Questions In Our Advanced Hair Studio
Here are a few things you might like to know.
What type of glue is used?
This all depends on the type of hair loss you are experiencing and whether we are attaching to your scalp or existing hair.
Does it pose a risk to my sensitive skin?
The glue we use has been tried and tested and will not affect your skin in any way.
How long does the process take?
We suggest you plan for 3 hours, however, our systems can take less time.
How long will it last?
Your new hair should last between 9 months to a year, this is all dependent on your personal lifestyle and care you depending on your lifestyle and the care you give your new hair.
How often will it need to be re-applied?
We will give you a schedule to visit us every 6 weeks.
Here we will remove the hairpiece, clean it while cleaning your scalp and then re apply.
Does the application process hurt
Not at all, it's exactly the same as going to a hairdresser.
Does the removal hurt
No, our trained hair specialist will gently remove the bondable hair topper and clean your scalp at the same time.
Pro Tip
We suggest you purchase 2 bondable hair toppers at the same time.
So that when the one you are wearing is removed it will give us time to clean it, therefore speeding up the application process.
Same Day Men's Hair Replacement in Cape Town
The below video will show you the whole hair replacement process in our advanced hair studio so that you know what to expect.
View the various Men's Hair Systems Available here.
An Advanced Hair Studio for Men and Women
Want Natural Looking Hair Again
Do you want natural-looking growing hair again? Our Advanced Hair Studio offers a variety of semi-permanent hair replacements that are designed for men and women. We offer the latest technology in human hair replacement. It's perfect for those who don't have time for surgical hair restoration and transplants but still want to look fabulous!
You can choose from a wide range of colours and styles, so it's easy to find one that suits your needs. Whether you're looking for something natural or dramatic, we've got what you need right here in our Advanced Hair Studio!
Visit us today and see how we can help transform your life with our amazing hair systems.
View the Female Hair Replacement Systems we have available.