Finding the correct wig size might seem daunting. Therefore, by following just a few steps we can ensure that you purchase the correct size wig. Our standard wigs will fit 95% of women out there. But as we all know, each and every one of us is different in our own way. That's why we have created Petite and Large size wigs in various styles and colours to match your fashion perfectly. Just as you would measure a new top, measuring is essential to ensure a perfect, secure, and comfortable fit. Follow the steps in our wig measurement guide below. Should you have any questions please get in touch with our alternative hair experts. After all, we are here to help you find the perfect wig.
Jon Renau Wig Measurement Guide Standards
Using a fabric measuring tape, hold the measuring tape at the front of your hairline.
Follow hairline circumference to the base of hairline at nape.
Continue around your head, back up to the front starting point.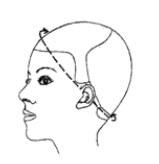 Establish "top of head point" by measuring 17.5cm (7 inches) back from the front hairline.
Hold the measuring tape at your HAIRLINE at top of your ear.
Measuring across "top of head point", continue down to HAIRLINE to the top of the opposite ear.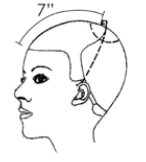 Hold the measuring tape at the front of your hairline.
Follow a line straight down centre of your head, ending at the hairline at the nape.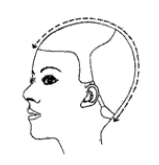 | | | | |
| --- | --- | --- | --- |
| SIZE FOR | CIRCUMFERENCE IN CM | EAR TO EAR MEASUREMENT | FRONT TO BACK MEASUREMENT |
| CHILD | 51 cm | 31 cm | 31 cm |
| PETITE | 53.5 cm | 33 cm | 33.5 cm |
| PETITE / AVERAGE | 54 cm | 33.5 cm | 35 cm |
| AVERAGE | 54.5 cm | 34 cm | 36 cm |
| AVERAGE / LARGE | 57 cm | 35 cm | 37.5 cm |
| LARGE | 58.5 cm | 35.5 cm | 39 cm |
|   |   |   |   |
The Wig Measurement Guide and How to Put on a Wig
HOW TO PUT A WIG ON (Step by step guide)
Turn the wig over and hold it in front of you, (the hairline should be facing you).
Hold at the nape area and slip the wig on like a cap, keeping ears free.
Gently push the hairline of the wig up to match up with your natural hairline.
Hold the ear tabs and adjust to ensure the wig is on evenly and in front of your ears.
Use wire in the ear tabs to adjust and to form the shape of your temples.
Use your fingers, brush or comb (depending on fibre) to help shape the hair into the desired style.
TIP: If you have a SmartLace lace front wig, be sure to not pull on or stretch the lace.
DO NOT SLIDE THUMBS OR FINGERS UNDERNEATH LACE.
Only use the ear tabs to adjust your wig placement on your head.
How to Find your Ideal Hair Topper
With over 150 unique hair toppers on offer, you might find it hard to decide on the right model for your stage of hair loss. Fear not, click on the below image and by answering a few questions we will suggest a hair topper that suits your stage and area (placement) of hair loss perfectly. Once you have completed this one of our alternative hair experts will get in touch with you with further information.
Private and Personalised Hair Topper & Wig Fittings Available at Fascinations Boutique
Hair loss can be a personal matter and for this reason, we have a bespoke wig boutique where you are able to try on various styles in comfort and in our private consultation rooms.
During your consultation, we will go over all aspects of the wig or hair topper you are enquiring about.
From the materials used to make the piece and the cap construction, right through to the colours and lengths that the piece you have chosen comes in. We are confident that we will find the perfect wig or hair topper to suit you and your lifestyle.
THE JON RENAU WIG GROUP
Wigs is part of the worldwide Jon Renau group.
Did you know that Jon Renau was actually started in 1969 by John and Stella Reynolds.
Jon Renau has since evolved into the world's leading
international manufacturer of wigs, hairpieces and hair extensions.
The Reynolds family began its entrepreneurial journey in the alternative hair industry in South Africa and moved to California in 1984, where Jon Renau is currently headquartered.
Jon Renau Digital Wig Books
Click the below button or here the view the various wig books showing styles available in South Africa.
Hair Loss Stories By Men and Women with Alopecia
We invited a few men and women from around the world with various stages of hair loss. (Alopecia) We then presented them with our unique wigs, hair toppers and bondable hair replacement solutions. View their stories below from start to finish.
If You Have Hair Loss Please Follow Our Social Media Channels
Filled with inspiring stories from men and women that we have assisted with our various alternative hair products.