Meet Mark, he is a young area sales manager with advanced hair loss. Mark suffers from (Androgenetic Alopecia) also known as male pattern baldness. Along with using our unique Non-Surgical Men's hair replacement system. We transform him from having little to no hair on his crown. To finally enjoy a full set of hair again. Importantly, this treatment is now available in our advanced hair studio in Cape Town, South Africa by Fascinations and Wigs. Both are the same company.
Unique Men's Hair Replacement Systems
Do you have alopecia and are balding? If so, our hair replacement system can provide instant coverage for your scalp. The process is called Hair Bonding. The product is applied and glued to your scalp and lasts for weeks. Thereafter we remove the hairpiece, clean it, give you a haircut, and re-attach it. The piece lasts for 6 – 9 months and even longer with proper care.

Our Amazing and Unique Hair Replacement Systems
Without a doubt, Fascinations Hair and Wigs have created a unique hair replacement system for men. By using our non-surgical hair replacement. We have therefore transformed Mark who suffers from male pattern baldness. Into finally having a full head of hair again.
Male Hair Loss Solutions
 By using a process of Bonding hair that is styled by a professional alternative hairstylist. Mark's hair is absolutely and perfectly colour matched to suit his current head of hair. This non-surgical hair replacement system can be completed in a single day. In fact, it can be completed on the day and within 3 hours.
Therefore, you can walk out a new man with a full set of hair.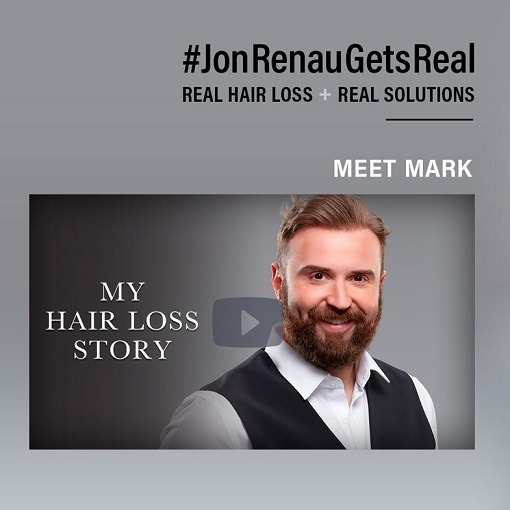 Non-surgical Men's Hair Replacement System
 This non-surgical hair replacement solution for hair loss is now available to both men and women.  A long-lasting alternative without invasive hair restoration surgery. Therefore the process involves a complete non-surgical hair replacement system. Created by Jon Renau in the US. It's finally now available here in South Africa.
Step by Step on How it's Completed
 Watch how Mark undergoes a bondable hair replacement system. It was done to hide his androgenetic alopecia.
What you can expect from your treatment?
Firstly, we shave off the little remaining hair.
Secondly, a hair replacement expert applies a bondable hair topper.
Finally, the hair topper is applied and colour matched to your existing hair colour.
What did he think of the hair replacement process?
 I absolutely love it. It's a pretty cool experience and I really love the colour. The overall feel of it.
My family and friends definitely know. My co-workers know as I am completely open. I just love that more and more men are coming out and being completely open about balding. Which I think will really help more people make that decision. It can be an emotional decision to do something and to not do something. I would definitely recommend it for anybody. I love the hairline. We used some cream and some basic textured hairspray, it's fun to play with. Yeah, love it. Love how soft it is. I can also mess it up a little bit, have some fun with it.
We clearly exceeded his expectations.
Androgenetic Alopecia in Men
 Without a doubt, there is no need to suffer from male pattern baldness any longer. Especially with our unique hair replacement systems, we will finally get you looking you're very best. Contact us today to schedule a personalised appointment with our hair replacement specialists.
About Jon Renau in South Africa
Initially established in 1972 by John Reynolds. Fascinations was started in a small pharmacy in Goodwood. Thereafter, John immigrated to California in 1982. At this time he extended operations to the USA in 1984. In addition to this, It has grown into an international brand. Known as Jon Renau.
Fascinations remain the birthplace of Jon Renau and was expanded in 1997. This happened when Garron the oldest son of John, moved back to South Africa and started FRIKA. This brand was created to address the larger population of African woman. In 2013, Fascinations grew once more to include easihair pro. John's second-born son Paul started the easihair pro-taped-in hair extension brands.
Fascinations specialise in thinning hair or hair loss in men and woman and have solutions for all stages of hair loss. Be it natural hair loss. From ageing or hair loss from diseases such as Androgenetic Alopecia, Trichotillomania, or Cancer hair loss.
Hair Services We Provide
 With an impressive selection of Wigs and Hair Toppers and taped-in hair extensions from which to choose. We are confident that there is a perfect one that reflects every unique persona. Whether you select a long Wig or simply want a box of taped-in hair extensions to supplement your hair. Or one crafted from real hair or synthetic. All our hairpieces and Wigs are designed to be gentle on tender scalps. We guaranteed to promote your self-esteem and appearance with our hair loss treatment.
We understand that selecting hairpieces can be a little daunting. After all, there are so many hairstyles and colours to choose from. Call us for a style and colour consultation today. It will be a fun step to feeling like a new you!
Hair Loss Treatments Available
 The Jon Renau collection boasts over 125 different styles and over 100 salon-inspired colours. Therefore, giving men and women the freedom of choice for their unique hair loss treatment. Easihair Pro has 44 different colours over three different lengths.
Fascinations Hair is run by Margaux Randall in South Africa. We distribute both the Jon Renau and easihair pro ranges to customers, agents and salons nationwide.
We are South Africa's Largest Wig Supplier
With over 250 unique styles we have an option that is suitable for your stage of hair loss treatment
View our other posts about hair loss, wigs, and hair toppers below.

Private and Personalised Wig Fittings Available
Hair loss is a private matter and for this reason, we have built a bespoke wig boutique where you are able to try on various styles in comfort and privacy.
During your consultation, we will go over all the aspects of the wig or hair topper you require. From the materials used, the colours and lengths available through to the cap constructions used. We will make sure that we find the perfect wig or hair topper for you and your lifestyle.