Do you have Mid to Progressive Stage Hair Loss? Suffering from Alopecia. Then we have hair solutions that will suit your style and blend into your hair perfectly. From Synthetic to 100% Remy Human Hair Toppers to a variety of professionally created colours by the experts at Jon Renau. 
My name is Emily Dahl. I started noticing that my hair was getting thin on top around the age of 16. And we went to the dermatologist and I was diagnosed with androgenetic alopecia my dermatologist recommended a few things. She also recommended that I wear hair or wear a wig. And at the time I was horrified at the idea of wearing hair, but it took me about 10 years to come around to that idea my hair loss stopped me from participating in a lot of things. I even remember being in an amusement park and being embarrassed because I was down below and having people see the top of my head. I was self-conscious about dating. I was self-conscious about going to the pool with friends. So yes my hair loss definitely did get in the way of me living my life to the fullest.
If I could go back and tell teenage Emily, I would say go do some research. Look and see what you can find that will work for you because there are incredible options for any sort of hair loss you may have. There is a solution for it and you will feel whole and complete and beautiful and confident again. Well, it's funny because I think I hear from a lot of hair loss ladies that they are mortified to go out in hair. Or they're scared and they don't like the way it looks or they're particular about something about it.
When I put that thing on my head I hadn't had hair in so long that I was happy about it. I felt like a movie star even though the topper wasn't quite right for me in the long run. But it was just I felt beautiful in that hair and I wore it that very same day I got it in the mail.
A long time ago maybe about six or seven years ago I heard a girl mention it on a blog that I was looking at and I didn't even know what that was. And I didn't think I would be a candidate for it because of my hair loss. But the more research that I did and the more I looked into it I realized you can wear a topper even with hair loss like mine. I prefer to wear toppers. I like having the versatility of being able to put it up, and I think for a person that's just entering the alternative hair industry or looking into that it's a little less scary than wearing a full wig.
Coming here has meant so much and learning about job Renau. I have bought Jon Renau pieces for the past two years and it is so amazing to come here and see the team behind these hairpieces that I wear every day. It has meant so much to me to come and be a model and participate as a woman with hair loss. And in the long run, I know and I hope that it will help others out there to see what can happen if you go looking for the right hairpiece.
When I first started wearing hair, I tried to find a piece that I could feel comfortable in every day in every circumstance. But now that I've had a couple years in this in this world, I am more open to changing my look. And I love going for new lengths and new styles and new colours, so I am open, Bring it on, I'll try it all. I wore a piece earlier today where I had a ton of hair extensions in. And I never thought that was something that I could do or would want to do. But I was surprised by how comfortable it was and how happy I was with the look. I felt very confident and I had vavavoom curly wavy hair.
I just loved it being here. Trying different pieces in human hair has been so much fun because I can see the versatility that you can have with human hair and how amazingly silky and wonderful it feels. It's better than any hair I had when I had hair.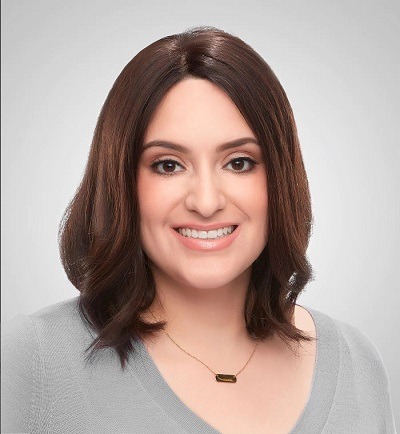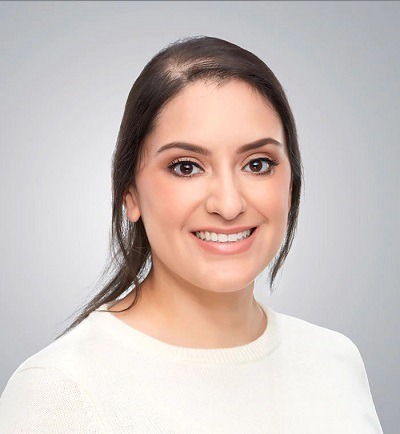 About our Hair Loss Model
Occupation
School Teacher
Stage of Hair Loss
Mid to Progressive Hair Loss
Type of Hair Loss
Hair Loss Solution
Human Hair Toppers
Styled by a professional
hairstylist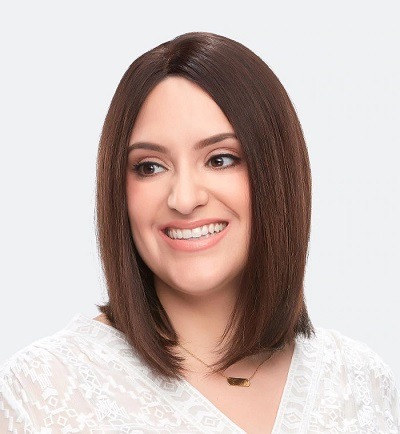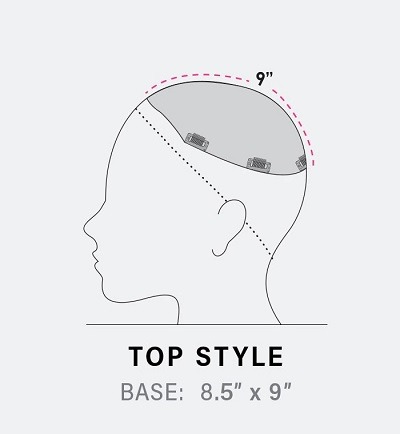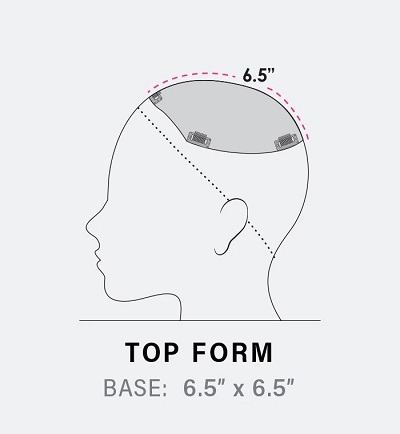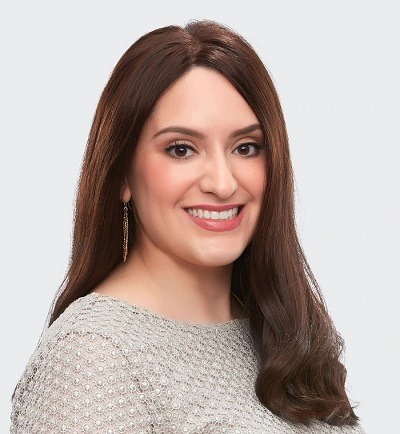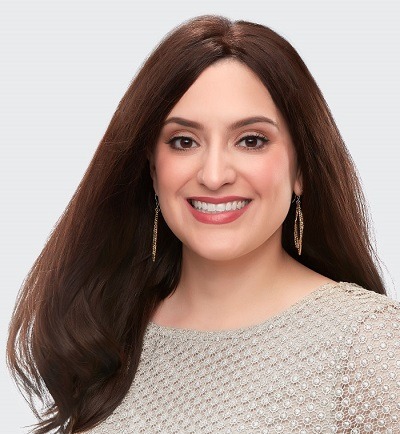 HAIR TOPPERS FOR HAIRLOSS
"I prefer wearing Hair Toppers. (As opposed to Wigs)
I like having the versatility to be able to put my hair up."
"Now that I have a couple of years of experience
(Wearing an Alternative Wig)
I am now more open to changing my look. "
Top Style 12 Inch Hair Topper For Women With Advanced Hair Loss
These hair toppers for hair loss integrate easily with your own hair at the crown to add body and volume. The 9-inch monofilament base is virtually invisible.
The below image is just to give you an idea of what is in the range.
Click on them to read further. Should you require any further information. Please reach out to our Hair Topper Experts to find the perfect solution for your stage of hair loss. Each topper style in our range has been designed to fit perfectly by alternative hair experts. With 32 professional colours in the range, we will have a colour to blend into your existing hair perfectly. Made in a long-lasting synthetic material. This Clip-In hair topper will help you look the way you always wanted.
Top Form 18 Inch Topper
Toppers for Mid to Progressive Hair loss are designed to add gorgeous volume at the crown, this 100% Remy human hair toppers for hair loss integrate with your own hair for a supremely natural look — it can even be styled with heat!. Heat Resistant Synthetic fibre can be heat styled with a flat iron and heated curlers to create that perfect look you are after. Created in 29 professional colours by the experts at Wigs.co.za. These colours will blend into your existing hair perfectly. Designed for use on a woman with the start of hair loss. Click on the below to read further about this exciting range of toppers. Should you have any doubt on what style of hair topper is for you.
Get in touch with our hair professionals and we will guide you to create that perfect look. 
Alternatively, you can do this yourself by clicking on our Hair Topper finder below.
This clip in topper, worn over the part, adds volume to medium-length styles with beautiful Remy human hair. The design is hand-tied using French knotting, a superior knotting technique that creates the most natural appearance possible.
How to Find your perfect Hair Topper?
We have created a topper finder. This will help you find the perfect topper for your stage of hair loss. Once you complete the below our hair loss experts will reach out to you with further advice. From the beginning stage to finding suitable Toppers for Mid to Progressive Hair loss and everything in between.
Jon Renau Digital Wig Books
Click here or the below button the view the other wig books available to view in South Africa.
Private and Personalised Hair Topper & Wig Fittings Available
Hair loss is a private matter and for this reason, we have built a bespoke wig boutique where you are able to try on various styles in comfort and privacy.
During your consultation, we will go over all the aspects of the wig or hair topper you require. From the materials used, the colours and lengths available through to the cap constructions used. We will make sure that we find the perfect wig or hair topper for you and your lifestyle.

Join us on our Social Media Channels
Created to inspire change along with helping you get the very best from your alternative hair.
Whether you have a wig or hair topper, we have you covered.