Our toppers for severe hair loss are expertly designed for just that. 
Designed with a larger coverage area for your advanced hair loss. Created by the professionals at Jon Renau and available through wigs.co.za. We are the only official Jon Renau agents in South Africa and stock the entire collection from Hair Toppers to Wigs and hairpieces. With our ongoing and extensive training, we can offer you the latest advice and solutions to your thinning hair. 
Hi there, my name is Jessica.  My hair loss journey started about two years ago when I noticed two teeny tiny spots in the front of my head. I thought it was just a little bit of hair loss and it will grow back. Unfortunately, that was not the case and I was diagnosed with cicatricial alopecia. For the last two years, I've had very extensive and progressive hair loss. Cicatricial alopecia is a type of alopecia also known as scarring alopecia and that means that scar tissue actually develops over the hair follicle. So when the hair falls out it has no chance of ever returning. The diagnosis of alopecia felt like a crushing blow. I was not hopeful that I would ever be able to have a normal hairstyle ever again.
I first found out about toppers for severe hair loss when I visited my first wig shop after getting the diagnosis of alopecia. I came in not knowing what she was going to do or how she was going to help me. And the lady said I have an idea let me go show you what I have. She came out, I didn't know if it was going to be a wig or extensions or what. She came out with the easy part xl by Jon Renau, and it was the perfect fit for me. I put it on and I immediately felt hopeful, that's the best word I can describe it. I walked in feeling like I would never have a normal hairstyle again and walked out feeling like no one will ever know now that I have this on
The thing I would tell someone who is newly diagnosed and looking at hair loss options is. It will be hard at first, but take comfort in knowing that it will get better. A diagnosis of alopecia is never fun and coming to grips with the idea that you're going to have to wear hair in order to cover your thinning or bald spots is not easy. But it will get easier and it may not happen right away. But, if you give it some time you'll get the confidence back that you once lost.
I gave wearing hair toppers for severe hair loss a little bit of thought and realized that if I was able to overcome the stigma of hair loss and the insecurity I wanted to be able to help others do the same thing.
The thing I've learned most about the hair loss community is that it's a very loving community. Everybody knows what it's like to go through the same experience you have. To be in the Jon Renau office and take off my topper and expose my biggest insecurity and feel completely at ease and completely accepted, has been the best part. If you would have told me when I got my first topper you're actually going to go there you're going to model with them you're going to be with them and you're going to be a part of their family. I would have never believed it. It meant everything and it could not have been a better experience.
We've had so many people loving on us and helping us and giving us support throughout this journey. And giving us the opportunity to call them and contact them at a later time, has been amazing. I would never have believed that a company could have so many loving and welcoming people. I have not met one cross person one angry person. They're all amazing, they're all beautiful, they're all stylish. They all love to wear hair and it really makes me feel like they know what they're doing and they really love it.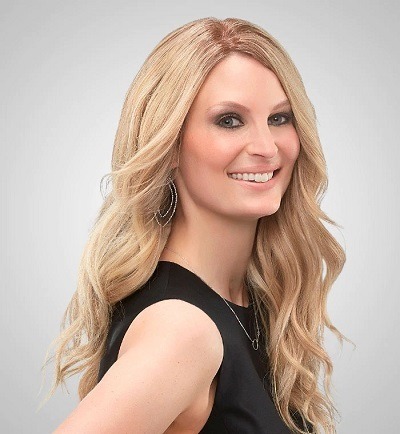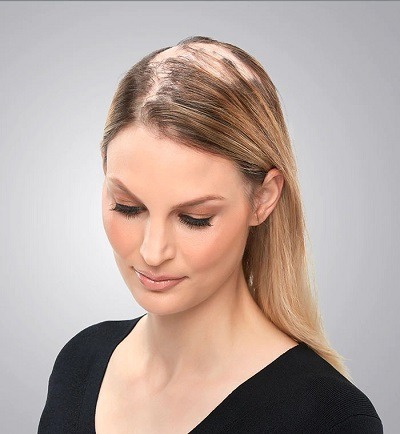 Our Hair Loss Model
Occupation: 
House Wife
Stage of Hair Loss
Advanced
Type of Hair Loss
Also, know as
Scarring Alopecia
Hair Loss Solution
Human Hair Toppers
The below are Toppers for
Severe Hair Loss

Styled by a professional
hairstylist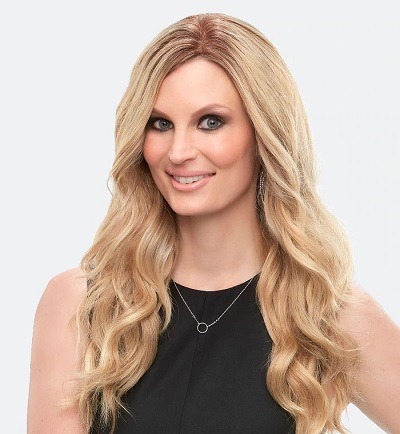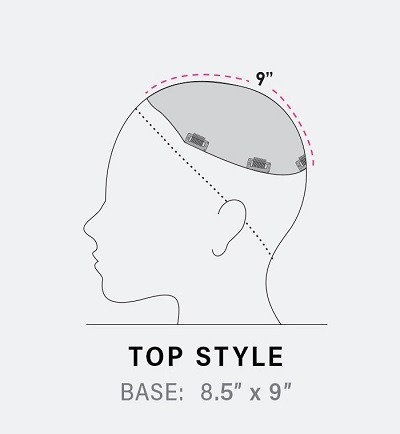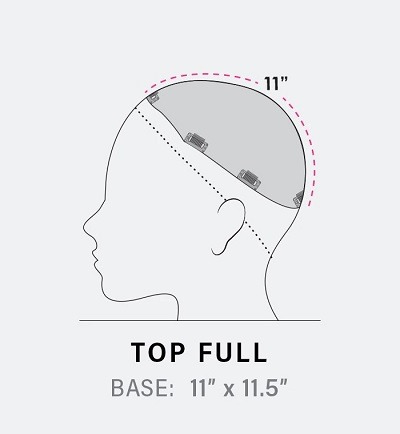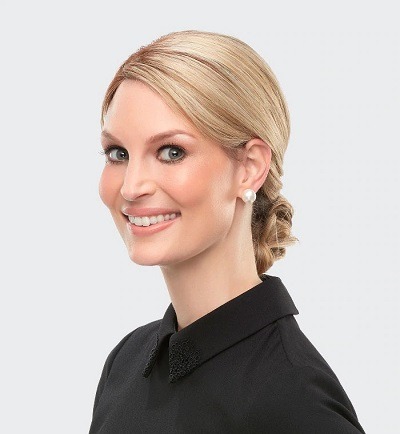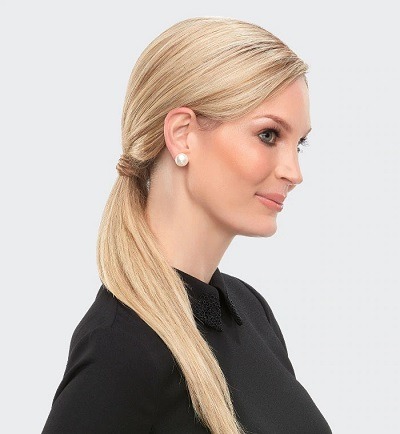 Toppers for Severe Hair Loss
"When I put my first Hair Topper on, I immediately felt hopeful"
"I walked in feeling like I would never have a normal hairstyle again"
"I walked out feeling like no one will ever know that I have this amazing hairpiece on"
Top Style 18 Inch Hair Toppers For Severe Hair Loss
Perfect for severe hair loss in women. This clip in topper integrates easily with your own hair at the crown to add body and volume. The 9-inch monofilament base is virtually invisible. Created in 29 professional colours to blends into your existing hair perfectly. The below image is just to give you an idea of what is in the range. Click on them to read further. Should you require any additional information. Please reach out to our Hair Topper Experts to find the perfect solution for severe hair loss in women. Each topper style in our range has been designed to fit perfectly by alternative hair professionals.
Top Full 18 Inch Topper For Women With Alopecia
Our female hair loss treatment is designed for the advanced stage of hair loss. This one-piece hair topper features an 11.5″ x 11″-base that adds volume over the entire crown. Top Full is available in 12″ and 18″ hair lengths, as well as synthetic and Remy human hair. Created in 29 professional colours by the experts at Wigs.co.za. These colours will blend into your existing hair perfectly and is designed as a female hair loss treatment. Click on the below to read further about this exciting range of toppers. Should you have any doubt on what style of hair topper is for you. Get in touch with our hair experts and we will guide you to create that perfect look.  Alternatively, you can do this yourself with our Hair Topper finder below.
The Top Full Hair Topper By Jon Renau
The Top Full Hair Toppers for severe hair loss
Its large base design offers the most coverage for the wearer.
Made with 100% Remy Human Hair.
Human hair toppers can be heat styled just as you would your normal hair.
Designed to blend into your existing biological hair.
Find your Right Hair Topper For Your Type of Hair Loss Here
We have created various advanced hair loss solutions. Use our unique hair topper finder. This will help you find the perfect topper for your stage of hair loss.
Once you complete the below our hair loss experts will reach out to you with further advice with our advanced hair loss solutions.
Jon Renau Digital Wig and Hair Topper Books
Click here or the below button the view the wig books available to view in South Africa.
Private and Personalised Hair Topper & Wig Fittings Available
Hair loss is a private matter and for this reason, we have built a bespoke wig boutique where you are able to try on various styles in comfort and privacy.
During your consultation, we will go over all the aspects of the wig or hair topper you require. From the materials used, the colours and lengths available through to the cap constructions used. We will make sure that we find the perfect wig or hair topper for you and your lifestyle.

Find Toppers for Severe Hair Loss our Social Media Channels
Created to inspire change along with helping you get the very best from your alternative hair.
Whether you need a wig or hair topper, we have you covered.