CARING FOR YOUR JANUARY WIG
Carefree wavy layers lend a spritely air to this stunning short style. The SmartLace front creates the illusion of a natural hairline. Made from synthetic fibres the January wig is long-lasting and easy to care for.
HOW TO CARE FOR YOUR JANUARY WIG?
January is one of the most popular synthetic lace front wigs in our SmartLace™ collection. With her carefree waves, this stunning short style features a monofilament top that allows the wearer to part the hair in any direction. The January style also comes with an ultra-lightweight wefted back. Designed with a Lace Front and a Single Monofilament top. Here we will show you all you need to know about caring for your synthetic wig.
COLOURS OF THE JANUARY WIG
This amazing wig is created in 46 professional colours to suit you and your colour style in every way.
View the amazing January Colours
WHAT IS A WEFTED BACK WIG DESIGN?
Wefted caps", also known as "capless", are the most common wig cap constructions, are feature rows of wefts of synthetic fibre or human hair that have been sewn together into the shape of a cap, with no underlying solid construction.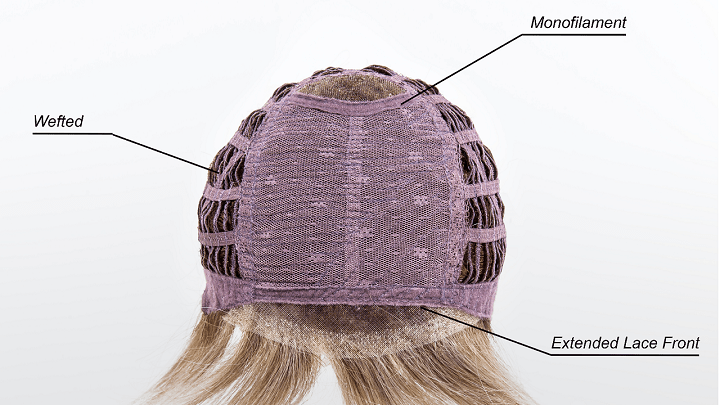 WE RECOMMEND WASHING YOUR ALTERNATIVE HAIR EVERY 6-8 WEARS  
CLEANSE & CONDITION
Before washing your wig or hairpiece, gently remove any tangles using your Jon Renau Paddle Brush or Jon Renau Wide Tooth Comb.
Wet hair completely using cool running water.
Gently lather the hair with a small amount of Jon Renau Synthetic Shampoo, making sure that the hair is travelling (Lying) in the same direction. DO NOT rub hair as this may cause tangling.
Rinse thoroughly under cool running water until water runs clear.
Wrap wig or hairpiece in a towel and gently pat dry
Spray with Jon Renau Conditioning Spray (3-5 pumps) keeping away from the base of the wig or hairpiece. Do not rinse out the conditioner.
Gently detangle hair using your Wide Tooth Comb.
HOW TO DRY & STYLE YOU HAIRPIECE
Allow wig or hairpiece to air dry naturally by placing it on a plastic or wire wig stand. DO NOT blow-dry!
For mid-length to long length styles, apply HD Smooth Detangling Spray, (3-5 pumps) focusing on the bottom half of the wig or hairpiece.
Gently comb through using your Wide Tooth Comb
We recommend using your fingertips or wig brush/comb for your desired style
To add texture and definition, use a small amount of Piece Out Contour Fiber Crème and apply using fingertips
Do NOT use heat to style synthetic fibre (curling irons, flat irons or blow dryers)
THE JANUARY WIG CARE TIPS
Be cautious when standing near a heat source (i.e. open oven, heater, etc.) Excessive heat can damage the fibre
We recommend using HD Smooth Detangling Spray with a wide-tooth comb to detangle your synthetic wig. This is especially important with a mid-length to long length wig or hairpiece. Each wig from the Jon Renau Range comes with this specially designed comb to take care of your synthetic wig.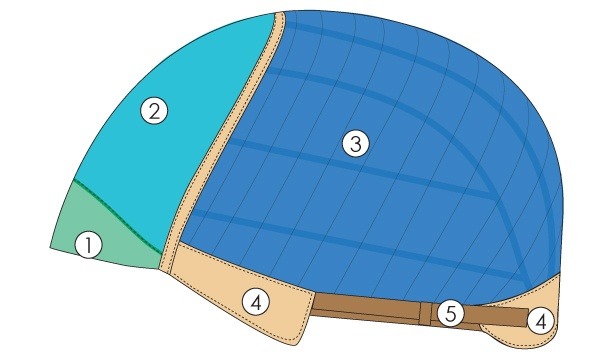 LACE FRONT / SINGLE MONOFILAMENT
SMARTLACE (WELDED LACE FRONT) Mimics a natural hairline, hair is hand-tied one by one
SINGLE MONOFILAMENT Allows multi-directional parting while providing the appearance of natural growth
OPEN WEFTED BACK Allows superior ventilation for maximum scalp cooling with machine wefting
VELVET EAR TABS + NAPE Allows smooth customization with bendable wire
ADJUSTABLE TABS Allows the wearer to adjust the circumference
BEFORE & AFTER WEARING THE JANUARY WIG
The incredible transformation of our model with hair loss. These are our before and after pictures when she tried on the amazing January wig.

PURCHASE THE BEST WIGS IN JANUARY 2021
Check out the January Wig
Read our article on how we transform woman's lives with Jon Renau Wigs
See how Jon Renau wigs change womens lives across the world

BOOK A PROFESSIONAL VIRTUAL CONSULTATION TODAY
Still unsure about the model and colour you prefer. Get in touch with our hair loss experts today. You can either book a virtual consultation where our team will go through options online with you. Otherwise, you can also book a consultation in our Wig Boutique in Cape Town and fit and feel the wigs before you make a purchase. Feel free to bring a friend along to get another opinion. After all, we are here for you.
Click to book a consultation

MEN'S NON-SURGICAL HAIR REPLACEMENT
Click on the above image to see our new revolutionary non-surgical men's hair replacement.

All About Jon Renau
Jon Renau is a family-owned business that has become an international leading manufacturer of wigs, hair toppers, hairpieces, hair additions and hair extensions. John and Stella Reynolds, the founders of Jon Renau, began their entrepreneurial journey in the alternative hair industry in South Africa in 1969. When they transferred operations to the United States in 1984, the Reynolds continued to grow Jon Renau is a family endeavour. From their start with party plan and direct sales to their work with both small boutiques and large retailers in the United States, Canada and South Africa, the Reynolds family has nurtured their business by nurturing their customers.
"We have always cared deeply about our customers' well-being," says John Reynolds. "We believe our customers respect our family values."
As a family business, Jon Renau is dedicated to partnering with our retailers for their success by being agile and responsive to the various needs of large and small businesses. We remain focused on creating products that truly improve the lives of our customers. We believe it is essential for men and women to have the ability to express themselves through style and colour, whether they seek alternative hair for fashion or from need.
The Jon Renau collection boasts over 125 different styles and over 100 salon-inspired colours, giving the wearer the freedom to choose. Celebrated throughout the industry for our fantastic colour selection and attention to detail, we strive to provide the finest quality, the best value and the highest customer satisfaction. We welcome you to discover all Jon Renau has to offer.