Hair toppers provide coverage and volume to instantly transform any look. With options for beginning, mid-progressive to advanced stages of hair loss, toppers are a great alternative to a full wig. For Beginning Stage Hair Loss we recommend the Easifringe, Easicrown, Top This, Easipart, Easipart XL, Easipart French, Easipart XL French. For Mid/Progressive Hair Loss we have the Top Form, Top Form French, Top Wave, Top Crown, Essentially you, Top Notch and Top Level. For Advanced Stage Hair Loss we have the Top Secret, Top Style, Top Full and a wide variety of designer full wig options.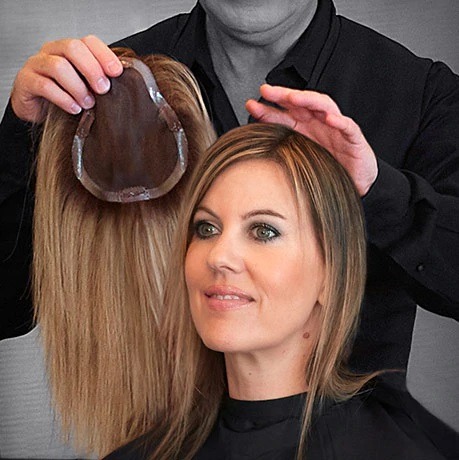 10+ BASE SIZES FOR ALL STAGES OF HAIR LOSS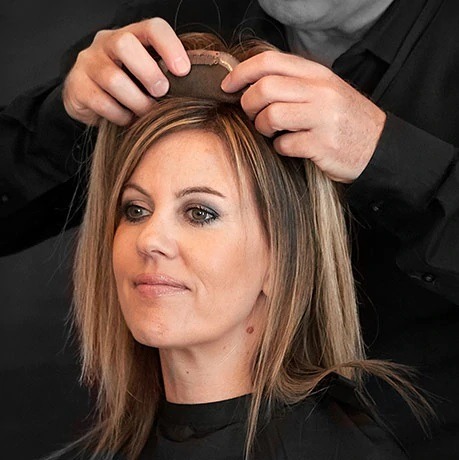 CAN BE CLIPPED-IN OR BONDED TO EXISTING HAIR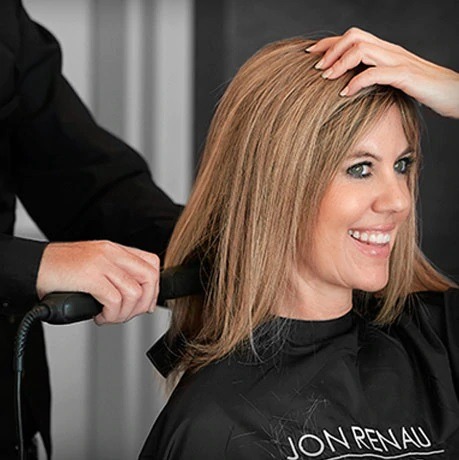 BLEND + STYLE WITH EXISTING BIOLOGICAL HAIR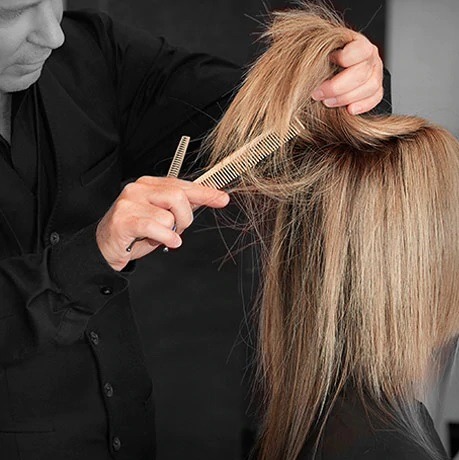 CUSTOMIZABLE TO MATCH ANY HAIR STYLE
Ideal Hair Topper Styles for Your Hair Loss Type
We have created various styles and hair toppers designs in a wide variety of colours. Each style and design is unique for your stage and position of hair loss. Please view the below videos to get an idea of what a hair topper is and what style will suit you perfectly. Should you have any questions about our hair topper styles, please reach out to our team. We are here to help you.
Easicrown Hair Topper
Designed for the beginning stage of hair loss.
This one-piece volumizer adds coverage and volume to the crown and back of the head. It clips in and out easily and can be heat-styled to create any look. Created in a Heat Defiant synthetic material. This topper can be heat styled to create your unique look.
Also available in 100% Remy Human Hair.
Top Form Hair Topper
For Mid/Progressive Hair Loss
Designed to add gorgeous volume at the crown, this 100% remy human hair topper integrates with your own hair for a supremely natural look — it can even be styled with heat!
Top Style Hair Topper
Advanced Hair Loss
This clip in topper integrates easily with your own hair at the crown to add body and volume.
The 9-inch monofilament base is virtually invisible.
Created in various lengths to suit and blend into your existing hairstyle perfectly.
Created For Women in South Africa
With the widest range of hair toppers in south Africa. Come to the Wigs.co.za.
To help you find the ideal hair topper for you, click on the below image and follow the various steps to find the ideal hair solution.
Once you have completed the hair topper enquiry form, our hair professionals will reach out and make an appointment to come into our Wig Boutique for a personalised consultation. Click the below image and start your journey to finding the right type of topper for you,
Part of the Jon Renau Group
Wigs is the only official agent on Jon Renau in South Africa.
Also, did you know that the Jon Renau brand was actually started in South Africa in 1969 by John and Stella Reynolds.
If you are looking for a Hair Topper in Cape Town, get in touch with our alternative hair experts and let's get you the very best solution for your stage of hair loss. Our products are worn by woman across the world. Join our world and create that new look you have been wanting.
Private and Personalised Hair Fittings Available
Hair loss is a private matter and for this reason, we have built a bespoke wig boutique where you are able to try on various styles in comfort and privacy.
During your consultation, we will go over all the aspects of the wig or hair topper you require. From the materials used, the colours and lengths available through to the cap constructions used. We will make sure that we find the perfect wig or hair topper for you and your lifestyle.

Follow Our Social Media Channels
Created to inspire change along with helping you get the very best from your alternative hair.
Whether you need a wig or hair topper, we have you covered.