Thinning hair and hair loss can be traumatic. With our range of hats for hair loss in women called Hat Magic, we have you covered. The collection has been completed restyled and designed to be even more comfortable and secure than ever before. If you are undergoing chemotherapy treatment and you are losing your hair and need soft and comfortable coverage, then the hat magic range of hats for hair loss is the perfect solution for you.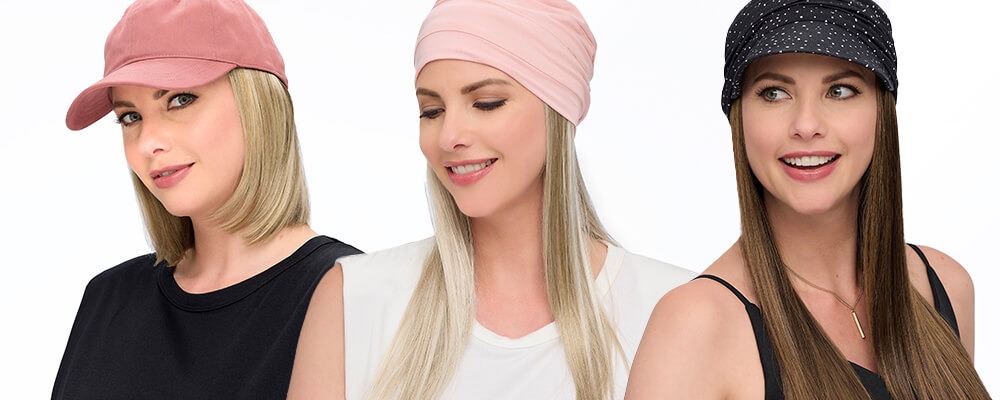 The Incredible Hat Magic Collection For Women with Hair Loss
Expanding our Hat Magic collection is in direct response to you. Our community can't get enough of these comfortable, synthetic hair solutions that are easily worn under any hat currently sitting in your closet. With a single piece of headwear, you have countless looks ready at the drop of a dime and without ever having to do another thing but bring out the next one!
Expanding our Hat Magic collection is in direct response to all those who've been clamoring for more convenience – we're giving them what they want with an expansion on this popular line.

Designer Headwear and Hats for Women with Hair Loss
Preparing for the day doesn't have to be a chore when you can let your creativity run wild. Plus, there are silicone temples that provide an anti-slip grip and polyurethane tabs at the back of the crown and nape area providing all security needed to feel confident in knowing it will stay on through whatever adventures come up throughout this new day!

Our company is the leader in hair replacement products. From our best-selling wig styles to a variety of quality-made headbands, we have everything you need for your beauty regimen. Our Hat Collection was created with people who wear wigs and hairpieces as their everyday accessories in mind; this collection has both classic pieces such as caps or sunhats that are perfect for any occasion, and trendy hats like beanies that will match every outfit!
Discover what makes our hat selection so special: from timeless classics including baseball caps or visors to more trendsetting choices such at fedoras or bucket hats – whether it's business attire suitable for an interview day (or just casual Friday), formalwear ready to attend prom night festivities, something extra chic
The Design of our Hats for Hair Loss
Created to fit securely all day long, see the below design details.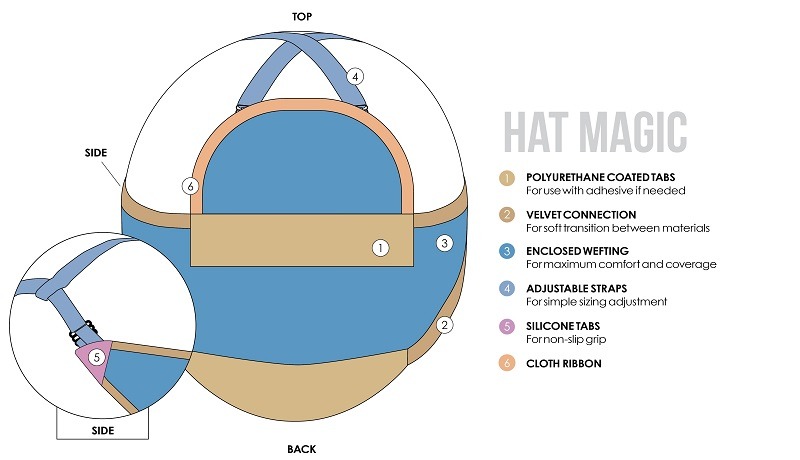 Hats that are Super Easy to Wear
We get that life is hectic. That's why we strive to make it as easy and comfortable for you with our hassle-free hats! No matter if your head size changes day after day or season after season, Hat Magic fits all shapes and sizes without any fuss.

Functional Hairpieces For Women With Hair Loss
Of course, it's not enough for a product to be simple to use. It also has got to look good! We exclusively use premium synthetic hair so that your style of choice is as chic and secure as possible. With two lengths and up 36 colours available, there's no limit on how much you can experiment with your own individual style!
Designed for Women with All Types of Hair Loss
Comfort remains non-negotiable for us, so we always factor in not just the appearance of a hairpiece, but also how it feels when you wear it. No one wants to deal with sweat beads dripping down their head and neck in the middle of summer. Our lightweight, super soft materials keep you cool and breathable year-round. From berets to baseball caps and everything in between, no matter which style of headwear you pair with your Hat Magic hairpiece, you can have peace of mind knowing that it will always be just the right fit.
We know what it's like to feel self-conscious about your hair loss
That's why we created Hat Magic, a range of hats for women with all types of hair loss. Whether you have thinning hair or are balding, our hats will cover up the problem and make you look good!
You deserve to be able to enjoy life without worrying about how your hair looks. With Hat Magic, our range of hats for hair loss. You can wear a hat every day and not worry about people noticing that something is different. It's so easy – just slip on one of our super soft hats over your head and go out into the world feeling confident again!
Click here now for more information on this amazing hairpiece!
You can't always wear your hair the way you want to
But with Jon Renau Hat Magic, you don't have to compromise! We've got a wide range of colours and styles that will match any outfit or occasion. And it's so easy to put on – just slip it over your head and adjust the straps for a perfect fit.
With the Jon Renau Hat Magic, there are no more excuses not to try something new! It's also great if you're looking for an alternative hairstyle that is easy and simple to use daily.
Get ready for compliments from friends and strangers alike when they see how amazing this product looks in person!
Click here now and order your own Hat Magic today!
The 16 Inch Magic Hat
 Hat Magic is a headpiece that takes on the form of an adjustable hair cap.
 It's light and breathable, designed to not only fit your hairstyle but also provide much-needed cooling during warmer months.
 Click here to view the 16 Inch Magic Hat.
Further Hair Articles We Recommend Reading
Join us on our Social Media Channels
Created to inspire change along with helping you get the very best from your alternative hair.
Whether you have a wig or hair topper, we have you covered.
Personalised Virtual and In-House Consultations
Click here to book a fitting today and let's help you find the perfect hair product for your type of hair loss.